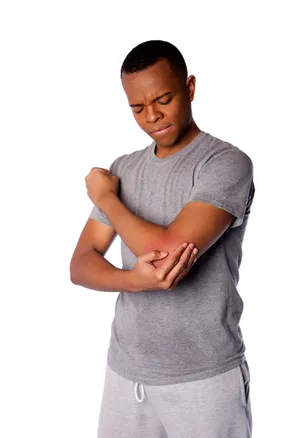 Elbow Injuries: Tennis Elbow (Lateral Epicondylitis) and Golfer's Elbow (Medial Epicondylitis)
Tennis elbow is a painful condition involving the outside of the elbow. Golfer's Elbow is a painful condition that involves the inside of the elbow. These conditions are commonly caused by repetitive motion or overuse, muscle imbalances, improper mechanics, or acute trauma.
Who May Suffer From these Conditions
Baseball players
Golfers
Racquet sport players
Hairdressers
Computer operators
Piano players
Other musicians
How Our Doctors Can Help You
Tennis Elbow and Golfer's Elbow are treated similarly. Treatment involves restoration of proper joint and nervous system function to the affected region. Inflammation and release of scar tissue control is necessary for healing. When treating this condition we will determine the mechanics of how your injury started, then address this complex issue. Our doctors will review correct conditioning, warming-up protocol and cooling-down protocol. Learning proper sports specific techniques can also benefit you and prevent further injury.