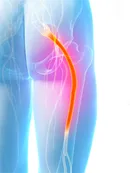 Radiculitis (Radicular Pain, Neuritis, and Sciatica)
This condition often involves back pain along with a persistent pain running down the arm or leg. The pain may be described as tingling, numbness, pins-and-needles, a dull ache, or burning. You may also feel accompanying spasms, locking joints, and local pain in the neck or back. Symptoms can be sudden or gradual, and the condition can worsen with prolonged sitting, sneezing, coughing, bending, or other sudden movements. It becomes more alarming when there is a loss of reflexes and/or muscle weakness present.
How Our Doctors Can Help You
80% to 90% of patients with sciatica will recover without surgical intervention. At times this condition will be co-managed with another healthcare physician. Our doctors will assist with a helpful treatment plan.
Our doctors will perform a thorough history and examination to determine the extent of your injury. Diagnostic imaging, such as x-ray, MRI, or CT scans can be ordered if necessary.
Chiropractic manipulation (adjustments) can help restore segmental motion, circulation of nutrients via blood flow, and improve healing of the spinal discs. Additional treatments offered include Leander Flexion-Distraction Table, physical modalities such as Interferential Current, Ultrasound Therapy, and specific spinal healing exercises (rehabilitation). Our doctors can prescribe lumbar orthosis (back braces), TEN's units, topical lotions and nutritional supplements.
Literature supporting chiropractic care for lower back related leg pain can be found at here.