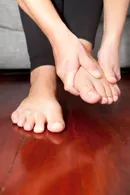 Plantar Fasciitis or Heel Pain Syndrome
This condition is characterized by pain at the bottom of the foot and/or at the heel. It's commonly felt with your first few steps in the morning or after prolonged sitting or non-weight-bearing movement. However, symptoms can be aggravated by activity and prolonged weight bearing. Plantar Fasciitis typically develops over a period of time and is usually due to repetitive stress on the plantar fascia and soft tissues of the feet.
The Causes of Plantar Fasciitis or Heel Pain Syndrome
Plantar Fasciitis can develop by sudden increased in physical activity such as
Running
Wearing shoes that do not provide adequate support
Standing on hard surfaces for long periods of time
Abnormal foot joint mechanics
It can also develop because of weak foot muscles or excessive foot pronation
How Our Doctors Can Help You
Chiropractic manipulation (adjustments) of the foot can be beneficial in restoring normal joint mechanics to reduce tension across the plantar fascia. Additionally, our doctors can perform soft tissue therapies such as Graston Technique, which is used to break up scar tissue that may have formed and contribute to the problem. Specific exercises may be prescribed to address muscle imbalances. Ultrasound therapy and orthotic support also aid in the treatments of Plantar Fasciitis.
It's important to understand that surgical treatment of bone spurs rarely improves Plantar Fasciitis pain. And surgery for plantar fasciitis can cause secondary complications—a troubling condition known as Lateral Column Syndrome.